RIP Eric Andrews MBE 20/06/1930 – 03/06/2020 My Amazing Grandad or "Granda," as I called him.
I have just lost my Granda Eric Andrews MBE. A man I am extremely proud of. I always will be. I aspire to be half the person my Granda was. He was liked by all and he loved life up until he lost his independence. For me and my sister he was granda, for my children he was their great grandad. He was part of our lives since we came into the world and our lives have a gap now hes gone.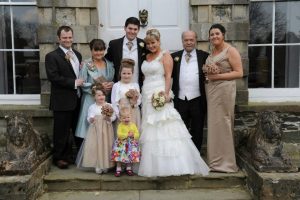 Granda at lucy's wedding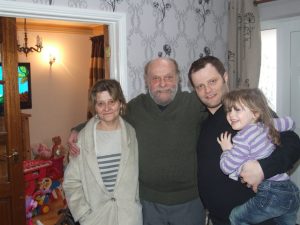 Granda on a visit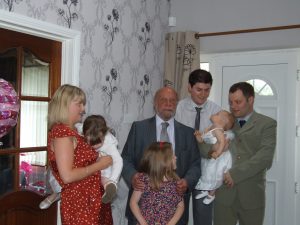 Granda at Olivia's christening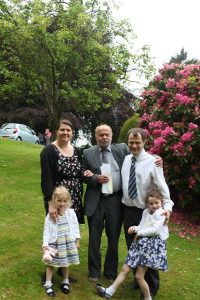 Granda at my confirmation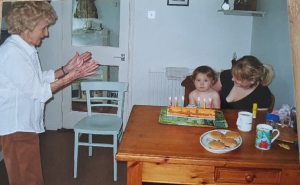 Granny Naureen at Charlas 6th birthday
My Granda to me was an amazing man. He no doubt touched people wherever he was. Maybe it happens all the time but after only a short stay in the hospital the staff where in tears as they saw him off on his way home yesterday when he wanted to die in his own bed.
Even during his last months having lost his eyesight, ability to drive, and the power in his legs he kept a generally high spirit. Even though he didn't find purpose himself he was always the one to make others laugh. He had everyone laughing even when we worried what was around the corner next for him.
Eric Andrews, my Granda got the MBE for service to industry having run machine maintenance in AVX in Coleraine. Many in Northern Ireland might not even know who AVX are, something my Granda found sad. Today I think Northern Ireland and Europe is sub 300 staff back in his time it was 2,000+ and he had been part responsible for that, as well as operations across the world. My Granda worked across the globe for the company and I remember him being called to the US and France back before anyone else I knew flew for work. He had a satellite phone which he needed in case he got called back to work if we were away from home. I remember him complaining when my granny ran up a £300 bill on a short phone call.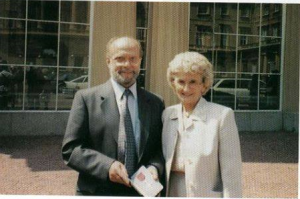 Eric Andrews Receiving his MBE at Buckingham Palace
When home Granda didn't talk about work. From personal experience one of the things that gave him the edge making made him stand out were how hard he worked and how interested he was in technology. My Granda for example built his own TV using his own hands back in the days of Cathode ray TVs. He repaired his own car back when that was possible pre-computer diagnostics. He was normally the first to have the latest gadget. To boot everyone who I have met since who worked under him only holds fond memories of him as both a boss and a colleague.
I don't know all of my Grandas workplaces, he didn't like to talk about it much but one he did talk about was Coleraine Campus at the University of Ulster. My Granda was a "technician," something which seemed to me as a young adult always too lowly a description of what my Granda explained around what he had done at work. I remember him explaining some of the experiments they carried out. Not all work I agreed with. I was an animal rights activist since I was a pup. None the less the ingeniousness of the concepts my grandad worked on me made me think my Granda had more than a small hand in the conception of the ideas.
My Granda loved animals. Part of his job at the university did involve keeping them. He kept many a rabbit in his youth and we went to a few shows together after he retired. He kept fish and did so from what I understand looked after the bulk of the animals in the university.
The research Granda conceived of and worked on was way ahead of his time. Long before Elon Musk conceived of Neuralink my Granda was involved in surgical procedures to place diodes in a rats' brain so as to modulate electrical impulses to make the rat hungry, or frisky, or bold. I didn't realise it at the time but perhaps that's what first led me to believe that behavior was so simple to control.
That was one of many an experiment my grandad did at the university. From mechanical devices to other biological projects my Granda was no doubt famous at Coleraine for his ability to come up with devices that could test out the hypothesis of the professors of the day. The only reason my granda wasn't a professor himself perhaps stemmed from the lack of money for him to complete his education. This was before the days of state-paid education.
My Granda was previous to the university a chief petty officer in the navy. He served as the world was coming out of world war two and with that, he traveled the world. No doubt inventing and fixing things along the way. He saw among other places my beloved Madagascar and was stationed in Singapore and Malaysia the longest. My mum was lucky enough to have a childhood that involved the wilds of south east Asia mixed with what was a happy childhood.
In the navy my Granda rose through the ranks and excelled at many things. My mum had as a result experienced an international childhood spending years in Singapore and Malaysia. If it wasn't for Grandas travels I may not have had the foresight to see beyond the northern Ireland troubles and ignore the creed or cast a person comes from. Perhaps my own hunger to see the world and travel came from him making me open to a world of opportunity.
My uncle Paul was bitten by a snake when he was there and nearly died something my Granda would not hear the end of. My Granny and him argued a fair bit over this and that. For all the bad times there were many good ones. I laughed when my Granda played an old cine film recently (yes he was first with cine and a camcorder too). He chose to run sports day in his shirt and tie because he hadn't his running gear with him. He was also a keen boxer and won many a medal.
The truth is I am told by everyone that I am like my Granda. Now I am going balder more people than ever have told me "I look like my Granda." Relatives have said "I get my brains from my Granda." If I am 1% him then I am no doubt doing ok.
Caravan trips were the highlight of my summer. Whether that was to Cork, Enniskillen, Dumfries, or Warrington, even a day trip here or there. Every trip was an adventure. For a boy who didn't start out with many prospects growing up in a housing estate in Eglinton me and my little sisters trips with my Granny and Granda were our only chance of getting out much given my mum had had to work since my dad died. My Granda was someone to look up to.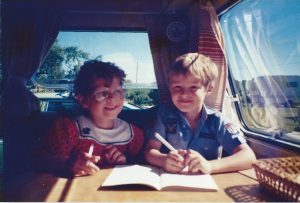 Me with "Shauna" who I until that day when she wore a dress thought was Sean. (Granda and Granny laughed)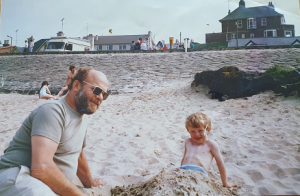 Granda with me on the beach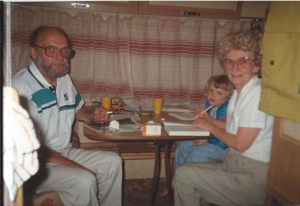 Granda Eric & Granny Naureen in the Caravan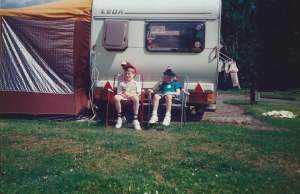 My sister Lucy and I on the caravan trip to Cork with our Pontins crocodile club hats on.
Granda started out life back in Glazebury England. He apparently had some Indian heritage from way back (as was later verified by my genetic profile). Granda wasn't from money himself, he ran off to join the navy as soon as he could. I didn't join the navy but following his footsteps I paid rent and paid my way from a young age. I was saving money since I got my first job at 13.
Granda had a harder start in life than most in that he had lost his little sister when he was very young due to her being run over by a car. I know that affected him for the rest of his life as he blamed himself. I hope he can now be at peace.
My only falling out with my Granda was a long time ago back when I was a teenager. When he was dying I said sorry. He forgave me absolutely I think he was surprised I remembered it.
I have few words to describe how I feel now my Granda is gone. Loss isn't word enough to describe how I feel. I was so proud of him. I'd often drop him into conversation. We were funny in that if we were together we might only talk about things as simple as gardening, Grandas rabbits or how my various projects were going.
It is funny how we waste the time we have on the unimportant and yet those moments still mean so much more than any amount of technical delivery.
I had so much time with granda when I was young. Trips In the caravan annoying him and granny with my cold feet when we stayed down with them at weekends. His firm approach but helping mum out when she needed it and making sure I stood on my own feet from day zero. I grew perhaps proud in the knowledge that I was lucky and that I should be helping others to help themselves and that included my family. Where my Granda helped my mum and my sister he never did me. It was all for my own good, and something I am truly thankful for. There were many a good time. Memories that made me who I am today.
Although I accepted my Granda was no longer happy after he lost his sight and I accepted more recently that he genuinely felt in himself that his time was up because he had lost all feeling of purpose. It doesn't make it any easier that he is no longer with us.
Driving to the hospital my daughters wrote a card for Granda. It had a big heart "Get well soon" it said. They wrote loads of hearts and xoxo all over it and as with all children it was just another day. Granda would be better again soon in their heads no doubt. I teared up and added to the little A4 page make shift card.
I wrote. "I will miss you so so much. I am so proud of you. I tell everyone about you. I hope one day when your looking down I can make you as proud of me as I have always been of you."
"I added Brody Sullivan Eric will never forget who hes named after. I'll make sure of that." We had named our little son "Eric" thinking perhaps my Grandas spirit would pass at least a little into him. I am already sure it has. His little smile is truly infectious, he now just needs his great Grandas laugh and a beard.
Given Granda couldn't see the card I read it out to him, you can imagine how my voice broke as I uttered each word. His reassurance and love was golden.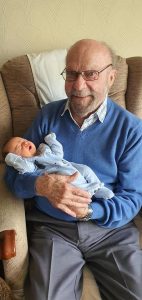 Granda with Brody Sullivan Eric Cuthbert
Eric Andrews MBE, my Granda was with it to the end, he had a sharp mind and assured me he was happy at the end, having had a good life. He was done with life given the low quality of life he had had after loosing his independence.  With his mobility and eyesight gone I understood completely. I remember how frustrated he was as he had to ask for my help with an old fuse box. He still knew the box backward and actually remembered the individual order of the old wire based fuses. I actually wondered that day if I could have been his eyes and legs but alas it wasn't to be.
My grandad promised he would be looking down on us when he passed. Just before we left that last time he was conscious he said he would see me again. I hugged him and said he would one way or another and reminded him how much I would miss him and how proud I was of him. He got home which is what he wanted and we saw each other that one last time in this life. At times over those last days he asked us to leave, it was clear he didn't want us all to just sit and watch him die.
He has left a big gap in my life but also an inner strength that I have so much more to give to this world. Its time to muscle up be strong and start to use my brain to solve the problems it was built for. No more half measures. I need to make him extra proud as I have no doubt he'll be watching and tutting at my every mistake with the kindness of making me better than I am.
I will miss him forever and will keep my word that our little Brody Sullivan Eric cuthbert will never forget who he is named after, the famous Eric Andrews MBE who really did exist and really did make a difference to this world both in big ways and in small ones.
Rest in peace Granda Andrews I hope you have found happiness in what comes next and that you'll be back to seeing purpose in the new existence your destined to lead.